If you have anything to do with the book arts world, you have probably heard of Susan Kapuscinski Gaylord and admired her work.  She has been working as a visual artist since the late 1970s. Ten years of calligraphic work were followed by a concentration on book arts where she is best known for the Spirit Book Series as well as her workshops, books, and web publishing on making books with children. She is the author of Handmade Books For A Healthy Planet. Her artists books have been featured in solo and group exhibitions in museums and galleries and are well-represented in print with features in magazines (Urthona: Buddhism and the Arts, Somerset Studio, Fiberarts, and Letter Arts Review) and books (500 Handmade Books, Cover to Cover and The Art of the Handmade Book by Shereen LaPlantz, and Handmade Books And Cards by Jean Kropper).
Her website  is a place of sharing and reflection. It offers information and inspiration on making books by hand (with an emphasis on simple techniques and recycled materials) as well glimpses into the process and product of Susan's art and her engagement with the changing of the seasons and the turning of the year.
When did you first start your blog? What was your motivation?
I have two blogs, both started in 2006. The first relates to my teaching of bookmaking to children (Making Books with Children); the second to my artwork(started as in good spirit and now susangaylord.com). I often wonder where I would be regarding technology without my family. My first computer was courtesy of my husband who said, "You need this" as he presented me with used compaq portable with a small screen and green letters and no information about using it beyond how to turn it on. I remember saying, "But I like writing everything by hand. I like copying things over until I get just the right words." Well, it didn't take me long after discovering the wonders of cut and paste to decide that the computer was a pretty amazing, if often frustrating, tool.
It was first my son, and then my daughter, who propelled me into the connected world of the internet. My son created my website, makingbooks.com, in 1999. While my initial reason for having one was to market my bookmaking workshops, I soon became more interested in the possibilities of the website for sharing what I had learned about bookmaking with children. My daughter is now encouraging me to put more energy into my blog.
My history with the web has always been one of practical money-making motivation being overtaken by the urge to share. I took a intensive (and intense) two-day marketing workshop with Marcia Yudkin and on her advice, started a newsletter. While it contained some information about upcoming workshops and projects and books, the meat of the newsletter was a monthly bookmaking project and links to supporting information on the web. The first newsletters were text only. When I signed up with Constant Contact and began sending html newsletters with images, I decided I wanted to share them with a wider audience, hence the blog. While I was at it, I also started a blog related to my artwork called in good spirit.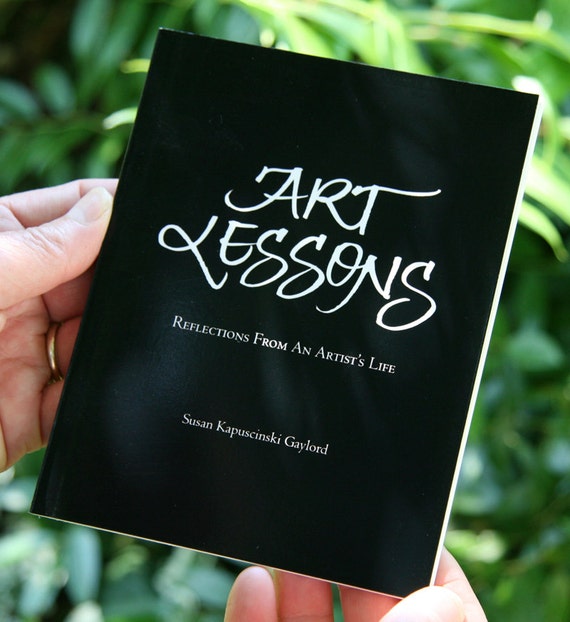 Is your reason for writing your blog the same as when you first started?
The blogs have always been very incidental to me until recently. With the encouragement of my kids, I am only now beginning to think of myself as a blogger, although even that seems a bit too serious. I think my reason has always been the same—to communicate and share. For many years, I kept my teaching and my art quite separate and did the same on my blogs and website. I am now working to merge the two together as they are both who I am. I am still keeping my Making Books with Children blog as it has the most followers but my susangaylord.com blog is the entry to my website. There I post all the same bookmaking information but also information about my art and work I do connected to the seasons.
Do you write for a specific audience? If so, who are they?
When I first started I saw my audience very much as teachers and then expanded it to parents and grandparents. Now I guess I see my audience as people who are like me in the sense that they are interested in books and bookmaking, art and nature.
Have you ever been to a blogging convention or meet-up, and if so do you find them useful?
No but I am planning to this spring.
How do you keep motivated to keep writing? Do you find it easy? Do you have any tricks or tips for other bloggers?
I try to keep a sense of obligation out of the process as it can be a funny thing. On the one hand, a sense of obligation can get you to do things. On the other hand, it can have a negative effect. If I have to do this, then no, I don't want to. I try to keep the blog about the joy of creating rather a duty.
The only tip I have is for a more casual blogger like myself: try not to let too long a time pass between posts. For the bookmaking projects, it's no problem for me. They are very straightforward. However, if I see or experience something interesting I'd like to share and wait too long, it grows from a quick post into a major production which often never gets completed. Although it was many years ago, I still have that English major voice in my head checking on grammar and sentence construction and giving a post the possibility of becoming a paper.
Name one way that having a blog has changed your life.
While the blog is yet another thing to keep me at the computer, it also sometimes gets me outside. Having a place to share my feelings about the seasons will sometimes draw me outside with my camera to find an image that speaks to me of that particular time of year and that day.
Here's a post that illustrates that.
Do you use any other social media, such as Twitter, Facebook etc.?
I am on facebook (both a personal page and a fan page for making books) and I have a twitter account but haven't done much with it. I occasionally post links of interest just on facebook but most often link to my blog posts.
What are some of the things that make you decide to follow (or not follow) another blog?
I tend to follow blogs that are about my areas of interest: making art, handmade books, writing. I prefer blogs with some combination of image and word.
Care to name another blog that you find inspiring/interesting/an example of what a really good blog can be?
I'm particularly fond of Gigi Thibodeau's A Magpie's Fancy and her new blog A Magpie's Pen.
Share one thing that is completely un-related to your blog – it can be anything about you!
I intrigued by Joan Rivers and watch the Fashion Police after every award show.